Remember Rajat Sharma – the guy nicely dressed in formals with oil laden hair stuck firmly, who is known for his straight (sometime uncomfortable) talking on 'Aap Ki Adalat' show few years back.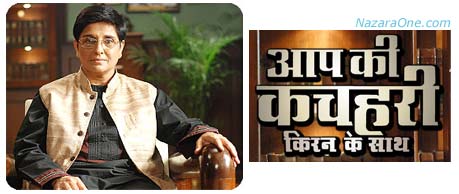 Kiran Bedi (you should know her) is trying something similar. While concept of the show looks bit different – name of the show is very similar "Aap Ki Kachehri" – "Aap Ki Adalat".
Show deals with real life interaction of 2 disputing parties expressing their side of story in specific dispute – while Kiran madam play the mediator or judge or whatever.
Another piece of real life drama opens on Star plus on Nov 10 Mon-Thurs at 10:30 – yeah, this show replaces now kicked out 'Kyunki Saas bhi..'.